Sunrise Windows Installed by Our Replacement Window Experts in St. Croix Valley
Skilled installation and premium, quality Sunrise Windows are the winning combination you get from Dr. Energy Saver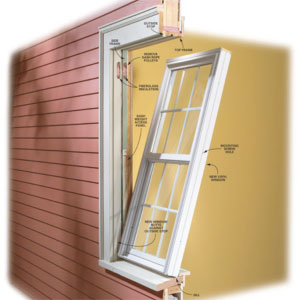 A new window inside the old one. A replacement window is sized to fit inside an existing window frame after the sash units have been removed. Copyright © 2002 The Family Handyman magazine. All Rights Reserved.
Replacement windows provide you with the beauty, function and energy efficiency of new windows without the high cost of removing your old windows.
Benefits of replacement windows:
Greater comfort. Say goodbye to cold winter drafts from leaky, inefficient windows.
Energy savings. Reduced heating and cooling costs.
Improved home resale value. Increased curb appeal + reduced operating costs = more home value.
Zero maintenance. Vinyl replacement windows never need painting.
Smooth operation. New windows open, close and lock easily.
No exterior alterations. Replacement windows can be installed without any alterations to your home exterior.
Dr. Energy Saver installs replacement windows the right way with Sunrise Windows
There are many companies who make replacement windows, and even more local contractors who install them. With so many choices, how can you be sure you're getting a top quality window along with expert installation?
Dr. Energy Saver expertly installs Sunrise Windows in Wisconsin and Minnesota. We are St. Croix Valley's trusted professional replacement windows contractor. Get a free estimate for window replacement in Chippewa Falls, Eau Claire, Hastings, Saint Paul, Cottage Grove and nearby. Contact us today!
Here are the keys to success with a replacement window project:
Exact measurements. It's critical for the installer to measure your existing windows correctly so that each replacement window can be made in exactly the right size. Taking proper measurements can be tricky in older houses --especially when window openings aren't perfectly rectangular. An experienced window technician will be able to overcome such challenges and get correct measurements.
Smart prep work. A skilled installer will protect your home interior before removing the old window sash. The installer will also make sure that your existing window sill and jambs are in proper condition to receive replacement window units.
Quality window units. Some replacement windows are definitely better than others. The Sunrise brand replacement windows available from Dr. Energy Saver offer exceptional value.
Professional installation. It's important for the installer to seal all gaps between the new replacement window frame and the old window jambs. This work is typically done with special low-expanding spray foam.
Well-crafted finish trim. The final installation step is to install interior trim that integrates your replacement windows with existing trim details. In a typical replacement window installation, only the glazed parts of the old window (referred to as the window sash) are removed. Your replacement window comes in its own frame sized to fit inside the jambs of your old window. The installation is done from the interior of your house. No alterations to your exterior siding or trim are required.
Contact Dr. Energy Saver for a free quote for vinyl replacement windows. Give us a call at 1-888-370-6924 or contact us online to have your windows inspected and to find out if replacement window installation is right for you! Our window replacement services are available in Eau Claire, Saint Paul, Cottage Grove, Hastings, Chippewa Falls, Prescott, Houlton, Farmington, Rosemount, Menomonie, Hudson, River Falls and surrounding areas throughout Wisconsin and Minnesota.
Examples of Sunrise Replacement Windows
Looking for a price? Get a no cost, no obligation free estimate.