Home
»
Geothermal Heat Pump
Geothermal Heat Pump Installation in Eau Clair, Cottage Grove, Saint Paul and Nearby Wisconsin and Minnesota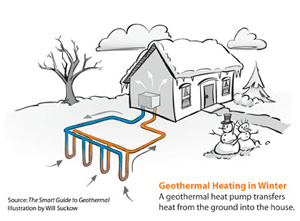 Efficiency from the earth. In summer, a GHP uses the refrigerant cycle and a ground loop system to move heat from indoors to the earth. In winter, the system reverses and heat can be moved from the earth to the home. Drawings supplied by PixyJackPress.com.
We can install a system that can supply heating, cooling & hot water efficiently
Are you ready to upgrade to a geothermal heat pump? This type of HVAC system is also known by other names: ground-source heat pump, earth-coupled heat pump, etc. Here at Dr. Energy Saver, we find that many homeowners are interested in geothermal heat pumps because of the numerous advantages they have over other HVAC systems.
Benefits of geothermal heating and cooling
Suitable for new construction and retrofit applications.
Utilizes renewable energy: the steady temperature of the earth.
One of the most efficient HVAC systems for supplying heating, cooling and (with some systems) hot water.
Up to 44% more efficient than air-source heat pumps.
Up to 72% more efficient than electric resistance heating.
Heating water with a geothermal heat pump can save 80% - 95% over the cost of operating a separate tank-type water heater.
Greater durability and longevity than air-source heat pumps.
Take advantage of all the benefits of geothermal heating and cooling. Dr. Energy Saver installs quality geothermal heat pump systems in Wisconsin and Minnesota. We are the area's trusted HVAC contractor, serving Saint Paul, Cottage Grove, Chippewa Falls, Hastings, Eau Claire and nearby. Contact us today for a Free Estimate!
How a geothermal heat pump works
An air-source heat pump supplies heating and cooling, just like a geothermal heat pump. But air-source heat pumps become very inefficient when outdoor temperatures drop below freezing. A geothermal heat pump doesn't have this problem because it relies on the steady (55-65 degrees F) temperature of the earth at depths below 6 ft. or so. Even when winter temperatures drop below zero, a geothermal heat pump has a steady heat source that ensures efficient operation. In the summer, when cooling is necessary, the earth can act as a heat sink, enabling the heat pump to efficiently cool and dehumidify your indoor air.
Some geothermal heat pumps are equipped with a secondary heat exchanger called a "desuperheater." The additional heat exchanger enables the system to supply hot water for washing. This type of HVAC system is considered by many to be the "gold standard" for energy savings as well as for "green" value and reliability. Your savings are maximized by dramatically cutting water heating expenses in addition to providing economical heating and cooling.
Free estimates and expert installation of a geothermal heat pump

Dr. Energy Saver is your local expert on home comfort, energy efficiency and improvements that increase "green" value while decreasing the cost of owning your home. We provide heating and cooling solutions to residents of Chippewa Falls, Eau Claire, Hastings, Saint Paul, Cottage Grove, Prescott, Houlton, Farmington, Rosemount, Menomonie, Hudson, River Falls and the surrounding area. Call today or contact us online to schedule a free home evaluation and estimate for geothermal heat pump installation.
Looking for a price? Get a no cost, no obligation free estimate.