Radiant Heating Systems in St. Croix Valley
Radiant heating systems provide an efficient option for home heating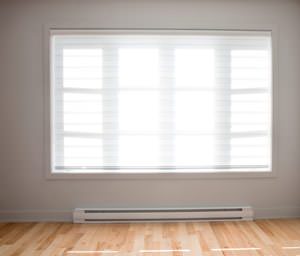 Quiet comfort. Hot water baseboard (aka hydronic baseboard) heat is a popular form of radiant heating. This type of heat doesn't require a ductwork system to blow conditioned air around.
Radiant heating systems are so named because they transfer warmth by radiation, from one object to another. Unlike forced-air heating systems that warm a room quickly by filling it with heated air, radiant heating systems typically raise room-temperature more gradually. There are several different types of radiant heating for houses, but they all work on the same principle and offer the same advantages.
Radiant heating systems are often preferred when family members are prone to allergies and respiratory ailments. Unlike forced-air heating systems that can circulate dust and other airborne irritants, radiant heat doesn't require air to be blown around.
Radiant Heating Systems Installed in Wisconsin and Minnesota
Whole-house radiant heating systems are often divided into different heating zones, giving homeowners control over what rooms get the most heat.
Dr. Energy Saver can service your radiant heating system to ensure maximum efficiency. We will also provide a free quote for replacing an old, inefficient radiant heating system with a state-of-the-art system that will save money and improve comfort.
We offer radiant heating in and around Eau Claire, Saint Paul, Cottage Grove, Hastings, Chippewa Falls, Menomonie, River Falls, Houlton, Hudson, Farmington, Rosemount, Prescott, and much more!
Types of radiant heating systems
Hot water baseboard heating: Also known as hydronic baseboard heating, this is the most common type of radiant heating used in houses. Hot water supplied by a boiler is pumped into pipes in baseboard radiators, forcing cooled baseboard water back to the boiler for reheating. Closely spaced fins on the pipes promote heat radiation and also heat transfer by convection.
Old-fashioned radiators: These bulky, upright radiators can still be found in some older houses. They were typically supplied with steam rather than with hot water. Because it takes more energy for a boiler to produce steam, these systems are not efficient. That's why they're usually replaced with modern hydronic baseboard radiators or compact, wall-mounted radiators.
Radiant floor heating: All radiant heating systems depend on thermal mass as a means of storing and radiating heat. In a hydronic radiant heating system, water provides the mass. With radiant floor heating, the flooring material provides the thermal mass. With hydronic radiant floor heating, warm water circulates beneath the finished floor in long runs of plastic pipe. With electric radiant floor heating, electric heating cable is installed beneath the finished flooring. Electric radiant floor heating isn't practical as a whole-house heating system. Instead, it's most commonly used in bathrooms, beneath a tile floor.
Start Saving Energy and Money With A Radiant Heating Upgrade.
Call 1-888-370-6924 or contact us online to schedule a home heating inspection and radiant heating estimate. We also offer a comprehensive home energy audit.
Looking for a price? Get a no cost, no obligation free estimate.