Expert Boiler Repair & Service in St. Croix Valley
Schedule a system tune-up to ensure reliable, efficient operation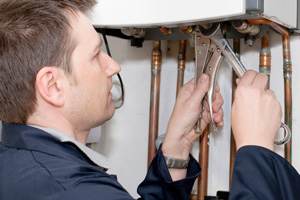 Tuned for peak performance. In addition to completing basic maintenance tasks on your boiler, the technician will also diagnose problems and explain what repairs are required to ensure long life and efficient operation.
Don't let the name fool you. A boiler's job is to heat water, not boil it. Some boilers provide hot water for a heating system. Some provide hot water for washing. "Combi" boilers provide hot water for both functions.
No matter what type or brand of boiler you have, it requires periodic maintenance to function properly. Even if your boiler appears to be working properly, it's smart to schedule a boiler service appointment at least once a year and whenever you suspect a boiler problem.
Our technicians can repair all makes and models of gas and electric boilers.
Contact us today to schedule your appointment for seasonal boiler maintenance and/or boiler cleaning or to have your boiler inspected and repaired.
Boiler service checklist
Here are some of the maintenance tasks your boiler technician will complete during a typical service call:
Visual inspection. An overall system inspection will include a check of the fuel line, flue pipe, zone valves and main supply lines. The technician will also check the relief valve. Valves are wear items and sometimes need to be replaced.
Combustion safety. It's important to make sure that your boiler is venting correctly, with no danger of combustion gases getting into your living space.
Basic boiler cleaning. This task removes carbon, soot and other combustion byproducts from the burner & combustion chamber.
System check. Part of the service includes running the boiler to confirm that the thermostat is working correctly and that water is being heated, pumped and (in some cases) stored properly.
Boiler repair or replacement?
When something goes wrong with a boiler, most homeowners have two questions: How much will it cost to repair my boiler? Would it be better to replace my old boiler? You can count on our experts to explain the pros and cons of boiler replacement or repair. We'll help you make the right decision.
If you are considering replacing your old boiler, learn more about our furnace installation solutions and things to consider when choosing a furnace.
Poor insulation & air leaks can affect the efficiency of your boiler
Before you consider replacing an older boiler with a new, more efficient model, it's wise to have our specialists check for other conditions that can cause comfort and energy problems. By correcting the issues described below, you can cut your heating costs and make it easier for your heating system to maintain consistent temperatures throughout the house.
Air leakage. Small cracks and gaps throughout your house allow heated air to escape and cold winter air to enter. Sealing these leaks will put less pressure on your heating system.
Attic insulation. Most homes don't have nearly enough attic insulation. Sealing air leaks, combined with an insulation upgrade, can cut heating costs by 40%.
We are the local experts for all your home heating needs, including boiler repair, cleaning, and maintenance.
If you live in Prescott, Houlton, Farmington, Rosemount, Menomonie, Hudson, River Falls, or the surrounding Wisconsin and Minnesota area, contact us today for a boiler repair estimate or to schedule a maintenance appointment!
Looking for a price? Get a no cost, no obligation free estimate.