Forced Air Heating Systems in St. Croix Valley
Forced air heating systems are effective for heating the entire house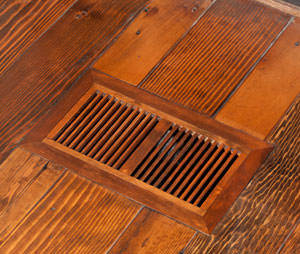 Give and take. Every forced-air heating system has a network of "supply" registers that deliver heated or cooled air to living areas. At the same time, a similar volume of air is pulled back to the centrally located "air handler" through "return" registers.
In a forced-air heating system, air that has been heated by a furnace or heat exchanger is distributed throughout a home's living space by a ductwork system.
Supply ducts bring heated air to different rooms; return ducts pull cooled air back to the furnace or heat exchanger to be reheated.
Supply and return ducts meet at a central air handler that contains a powerful fan for moving air through the ductwork.
Dr. Energy Saver can evaluate your current heating system and provide a free quote on a super-efficient system that will save you money.
Call or email today for a free quote for heating installation or replacement. We proudly service Eau Claire, Saint Paul, Cottage Grove, Hastings, Chippewa Falls, Menomonie, River Falls, Houlton, Hudson, Farmington, Rosemount, Prescott, and more neighboring areas!
Forced Air Heating Contractors in Wisconsin and Minnesota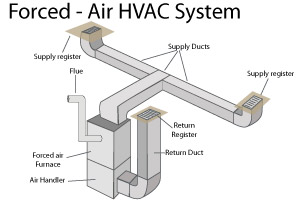 A forced-air heating system can get its supply of heated air from an oil or gas-fired furnace, from a heat pump, or from an oil or gas-fired boiler that circulates hot water through a heating coil installed in an air handler. A forced-air heating system that relies on hot water is called a hydro-air system. During hot weather, the same ductwork system that circulates heated air can also circulate cooled air from a central air conditioner.
Forced-air systems have an equal ability to deliver warm or cool air quickly. But because blowing air can carry dust and other allergens, people who are prone to respiratory ailments can find these systems irritating. Leakage in the ductwork system is another potential problem.
Leaky ductwork is fairly common, and it can substantially reduce the efficiency of both heating and cooling systems, while also introducing unwanted air (from attic and basement or crawl space areas) to interior spaces. Having ducts professionally sealed will solve these problems. Ductwork that runs in unconditioned space (such as a crawl space or attic) should be insulated to limit energy loss.
Start Saving Energy and Money With A Heating Upgrade.
Call 1-888-370-6924 or contact us online to schedule a heating system inspection and heating estimate to install or replace a forced air heating system.
Looking for a price? Get a no cost, no obligation free estimate.