Solar Photovoltaic Electricity in St. Croix Valley
Harness solar energy to cut your electric bill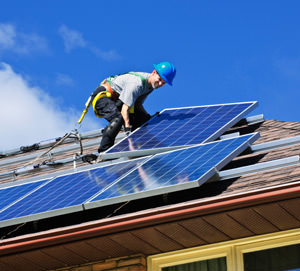 Exposure is important. PV panels can be mounted on a south-facing roof or on ground supports. In either case, there should be maximum exposure to direct sunlight.
Solar photovoltaic (PV for short) systems are hot, and it's easy to understand why. Solar energy is the ultimate renewable energy source — green, nonpolluting, and universally available. What makes solar PV even more attractive these days are lower prices. Thanks to advances in PV technology, the cost of solar cells continues to come down, making solar power systems more and more affordable. Local and Federal incentive programs sweeten the deal even further.
Dr. Energy Saver can help you decide if a solar photovoltaic system is right for you. We can right-size and install a solar panel array.
When you have a solar PV system installed, you are generating free electricity whenever the sun is shining. During periods of low electricity demand, you may actually generate more electricity than your home is consuming. When this happens, net metering regulations stipulate that your electric utility must purchase your surplus electricity. Depending on the size of a solar PV system and household power consumption habits, you can expect to reduce your electric bill by 40%-80%.
It's important to consider solar energy as one element in a larger overall home energy saving plan that includes high levels of insulation, improved air-tightness, energy-efficient water heating and top-performing heating and cooling systems. Put another way: For optimum energy savings, you need to reduce (energy consumption) before you produce (solar energy). Keep in mind that solar energy can also be used in a solar thermal system that saves money by producing solar-heated water.
Is a Solar Electric System Right for Your House?
During a free solar system evaluation, Dr. Energy Saver can explain the differences between solar PV and solar thermal systems, and help you decide which system is best for your house.
How a Residential Solar Photovoltaic System Works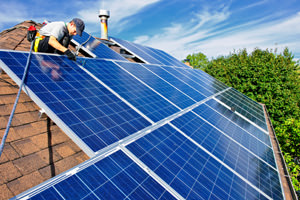 A typical "grid-connected" solar PV system allows the home to use solar electricity as well as electricity supplied by the local electric utility. Solar panels can be mounted on a south-facing roof or on the ground. Sometimes trees must be trimmed or cut down so that panels can receive maximum sunlight. The direct current (DC) produced by the solar cells is converted to standard alternating current (AC) by an inverter, then fed through an electric meter, just like the electricity that comes from the power company. With your solar panel installation complete, you'll never have to worry because a solar PV system is nearly maintenance free. Panels will keep producing solar electricity for 25 years or more.
Not many solar energy companies have all the solutions and services that Dr. Energy Saver has. We provide free evaluations and estimates for solar panel installations in Wisconsin and Minnesota. Call or email Dr. Energy Saver today for a free estimate on a solar energy system.
Start Saving Energy and Money With A Solar Photovoltaic System Upgrade
Call 1-888-370-6924 or contact us online to schedule a free solar photovoltaic system estimate and see if a home solar powered system is best for your residence.
We service: Eau Claire, Saint Paul, Cottage Grove, Hastings, Chippewa Falls, and surrounding areas including Menomonie, River Falls, Houlton, Hudson, Farmington, Rosemount, Prescott, Osceola, Red Wing, New Richmond, Welch, Hampton, Hager City, Somerset, and more.
Looking for a price? Get a no cost, no obligation free estimate.