St. Croix Valley's Experts for Spray Foam Insulation
Our spray foam installation provides versatility & maximum R-value
Benefits of spray foam:
Stops conditioned air from escaping from your home.
Air-seals insulated areas without any extra steps.
Won't settle or sag like fiberglass, ensuring continual performance.
Closed-cell spray foam is waterproof.
Easily fills hard-to-reach or irregular areas.
The insulation "team" that's supposed to make our homes comfortable and energy efficient is truly a motley crew. In the old days, sawdust was sometimes dumped inside walls to slow heat loss. Then came vermiculite — porous lightweight pebbles with the look and feel of kitty litter.
Today we still rely on an old-timer, fiberglass batt insulation that's made from spun glass fibers. But if you're looking for a star player on the insulation team, a standout with qualities that other types of insulation can't touch, it's got to be spray foam. More specifically, we're talking about closed-cell polyurethane spray foam.
Increase your comfort and decrease your energy bills with spray foam insulation in Chippewa Falls, Eau Claire, Hastings, Saint Paul, Cottage Grove, and nearby cities and towns such as Menomonie, River Falls, Houlton, Hudson, Farmington, Rosemount, Prescott, and more. We are your trusted spray insulation contractor in Wisconsin and Minnesota.
Unique advantages of spray foam
R value. Poly spray foam has a higher R-value per inch than any other commonly used insulation —R-6.2 or higher, depending on the formulation.
Air barrier: Spray foam air-seals and insulates in one step. Its ability to expand and fill gaps and cracks make it an ideal air-sealing material, and it stays in place because of its super-adhesive qualities. Spray foam is often spot-applied as an air-sealing treatment prior to filling an attic with blow-in insulation. But when applied in more generous amounts, it can eliminate the need for other types of insulation.
Waterproof: Moisture will soak its way through fiberglass and cellulose insulation, but polyurethane spray foam stops it cold. Its closed cell structure means that water can't migrate from one tiny cell or bubble to a neighboring one.
Foolproof: Did you know that a void (missing insulation) of just 5% of an insulated area can diminish overall insulation performance by as much as 50%? It's very difficult to install fiberglass insulation perfectly, so voids are not uncommon. But spray foam's expanding, super-sticky characteristics just about eliminate the possibility of voids. And once the foam cures, it's not going to settle or shift like fiberglass or cellulose can.
Two basic types of spray foam insulation
1-part foam: You've seen and probably used this type of spray foam, which comes in pressurized cans that are sold at home centers and hardware stores under brand names like GREAT STUFF™. This single-component foam is super-sticky, and expands at different rates (depending on the type you buy) immediately after application. Since it seals gaps as well as insulates, this product is often referred to as an "insulating foam sealant."
2-part foam: To insulate an entire basement or attic with spray foam, contractors use 2-part polyurethane foam that comes in a pair of pressurized metal containers. When both components (resin and a catalyst) are mixed together at the nozzle, a foaming chemical reaction takes place that causes the material to expand.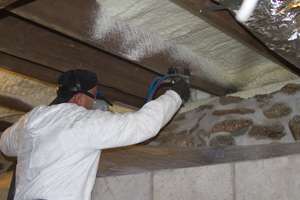 A versatile energy-saver. 2-part spray foam expands after it's applied, creating an effective thermal and moisture barrier. Thanks to its unique properties, it can be used to solve comfort & energy problems in many parts of the house.
Spray foam should be applied by a professional
Tricky: It takes experience to get the feel of applying spray foam, especially two-part foams. With their different expansion rates and other qualities, they prove difficult for someone without experience to get the most of this material. For example, a high-expanding foam will damage a door or window jamb, but our training and experience can prevent this from happening.
Oftentimes, spray foam can also be wasted and get messy -- but our fully trained specialists know how to get the job done well the first time!
Temperature sensitive: Cold temperatures affect the chemistry that causes the foaming action. It's critical to keep spray foam cans or two-part foam canisters within a specific temperature range for successful application.
Be sure to check out our comparison between spray foam and rigid foam insulation. We also provide assistance in choosing the best spray foam insulation.
Get a free estimate for spray foam & attic insulation
Call or contact us online for a free estimate -- we are your trusted insulation contractor in Saint Paul, Cottage Grove, Chippewa Falls, Hastings, Eau Claire, Rosemount, Menomonie, Prescott, Houlton, Farmington, River Falls, Hudson, and more.
We also offer a comprehensive home energy audit to diagnose the major contributors to your home's energy issues.
Looking for a price? Get a no cost, no obligation free estimate.