HRV & ERV Systems Installed in St. Croix Valley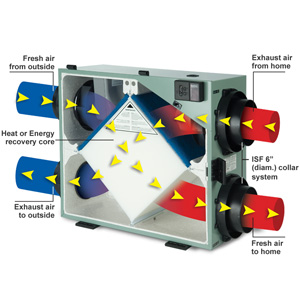 Balanced ventilation. A Heat Recovery Ventilator (HRV) is a fan-powered appliance designed to exhaust stale indoor air to the exterior, while pulling in an equal volume of fresh outdoor air. Image supplied by the Imperial Manufacturing Group.
Maintain healthy indoor air quality with a proven air-exchange system
Does your house need a heat recovery ventilator (HRV) or energy recovery ventilator (ERV)? If your home has been air sealed to improve comfort and energy efficiency, then it might be a good idea to have an HRV or ERV installed to ensure healthy indoor air quality.
As St. Croix Valley's experienced HVAC contractors, Dr. Energy Saver provides a variety of heating, air conditioning and indoor air quality services. Contact us today for a free estimate to install a heating recovery or energy recovery ventilation system in your home. We serve Chippewa Falls, Eau Claire, Hastings, Saint Paul, Cottage Grove and surrounding Wisconsin and Minnesota areas.
Out with the bad air, in with the good
HRV and ERV systems were developed to serve the ventilation needs of tightly sealed, well-insulated houses.
Leaky, inefficient buildings have plenty of uncontrolled air exchange through gaps, cracks and openings that provide pathways for air infiltration and air exfiltration. But in an energy-efficient home that has a tightly sealed "building envelope," indoor air can easily become stale, unpleasant and even hazardous. It can accumulate odors from cooking and bathing, as well as other pollutants. HRVs and ERVs eliminate this problem by exchanging stale indoor air for fresh outdoor air. Both ventilation aids are designed to work with forced-air heating and cooling systems.
HRVs & ERVs transfer heat and humidity for energy savings
So what happens on a cold winter day when your HRV exhausts heated indoor air and sucks frigid outside air into the house? Good question. The answer appears in the cutaway view shown here, illustrating the interior of a typical HRV. A specially designed corrugated core forces outgoing (warm) and incoming (cold) air streams to pass very close to one another, separated only by a thin membrane. A large amount of heat from the exhaust air is transferred to the incoming air, effectively preheating the outdoor air before it joins the heating system's ductwork.
In summer, the heat transfer works in reverse, allowing an HRV to cool incoming outdoor air. In predominantly cooling climates, ERVs are usually installed (instead of HRVs) because they can reduce the amount of humidity that comes into the house from outside.
Higher comfort & efficiency, lower utility bills and healthy air quality
There are many systems that work together to keep the air in your home healthy, comfortable, and inexpensive to heat and cool. There are also many problems that may need to be corrected to ensure a comfortable, energy efficient home.
The technicians at Dr. Energy Saver are trained to identify these requirements and design a customized indoor air quality plan for your home. We can measure your home's air exchange rate and install an HRV or ERV if necessary. We'll work with you to ensure the best-possible results: a healthy, comfortable home with lower operating costs.
Call us at 1-888-370-6924 or contact us online to schedule a free estimate to have a geothermal heat pump installed by one of our experts. We provide HVAC services to customers in Saint Paul, Cottage Grove, Chippewa Falls, Hastings, Eau Claire, Menomonie, River Falls, Houlton, Hudson, Farmington, Rosemount, Prescott and nearby Wisconsin and Minnesota.
Looking for a price? Get a no cost, no obligation free estimate.