The Best Dehumidifiers Installed Throughout St. Croix Valley
What is a dehumidifier and how does it work?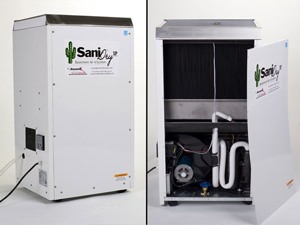 Clear the air on dehumidification. Unlike the light-duty dehumidifiers available at many appliance outlets, the SaniDry™ XP Basement Air System from Dr. Energy Saver is designed to handle more demanding basement and crawl space conditions. A much larger coil is just one of the important differences.
Dehumidification is often part of an overall strategy to improve a home's energy efficiency, indoor air quality and durability. Removing moisture from "damp" air in a basement or crawl space can help insulation function more effectively while also helping to prevent mold, wood rot and metal corrosion.
A dehumidifier works according to the principle that air's ability to hold moisture (humidity) diminishes as air temperature drops. This principle explains why an ice-cold glass of water "sweats" moisture on a hot day.
In a dehumidifier, a fan blows humid air across a metal coil assembly that is filled with cold refrigerant –the same compound that is used in air conditioners and refrigerators. When the air meets the cold coil surface, water condenses out of the air and drips off the coils onto a reservoir that's built into the dehumidifier.
Contact Dr. Energy Saver today for more information about dehumidifiers in Eau Clair, Saint Paul, Cottage Grove, Prescott, Houlton, Farmington, Rosemount, Menomonie, Hudson, River Falls, and more! We are the local trusted authority in energy savings and home comfort.
Top-quality dehumidifiers provide the best value
Like refrigerators and air conditioning units, some dehumidifiers are better than others. Most of the standard models available through appliance dealers don't have the capacity or durability for reliable long-term performance in basements and crawl spaces. Fortunately, Dr. Energy Saver has exclusive access to SaniDry™ dehumidifiers that easily outperform other models, and are specifically designed to handle the high-moisture, lower-temperature environment of basements and crawl spaces.
Dr. Energy Saver's SaniDry™ XP Basement Air System can dry a 2500sq. ft. basement with an 8-ft. ceiling up to 275% more efficiently than similarly sized models. The XP has features than engineers admire and homeowners appreciate, and is an ENERGY STAR® Rated product. It's self-draining, so there's no need to worry about emptying the reservoir. A built-in humidistat allows you to set a desired humidity level. The unit will turn off automatically when a preset humidity level is reached. A high-quality (MERV-11) air filter has been incorporated into the unit, enabling the XP to remove dust and allergens from the air in addition to providing dehumidification.
If you have a crawl space with moisture problems, Dr. Energy Saver has sealing and waterproofing products and a low-profile version of the SaniDry™ dehumidifier called the CX that's just as impressive as the SaniDry™ XP but is designed to fit in tighter spaces.
We are your energy experts providing the best dehumidifiers in Saint Paul, Cottage Grove, Eau Clair, and all nearby areas and locations. Be sure to contact us today to learn more or to identify you home's energy hogs with our home energy audit.
Start Saving Energy and Money With A Whole-House Energy Audit.
Call 1-888-370-6924 or contact us online to schedule a whole-house energy audit. Dr. Energy Saver serves Eau Claire, Saint Paul, Cottage Grove, Hastings, Chippewa Falls, Menomonie, River Falls, Houlton, Hudson, Farmington, Rosemount, Prescott and surrounding areas.
Looking for a price? Get a no cost, no obligation free estimate.